PUYOUNG PLATECH'S SOLARIG™ BRAND SOLIDIFIES DOMINANT POSITION IN GREENHOUSE FILM MARKET
- Manufacturing the world's best greenhouse films with technology provided by Palrig (Israel)
- Leading the market with superior tear-resistance, durability, and quality
SEOUL, Korea - April 15, 2015 - Global tarpaulin enterprise Puyoung Ind. Co., Ltd. announced that first-quarter sales of Solarig, a brand of greenhouse covers owned by subsidiary Puyoung Platech, Ltd., increased 100% year-over-year, and noted that its strong sales performance was attributable to the reputation for quality that Solarig has maintained since its introduction in 2000.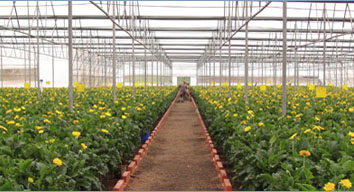 Solarig™ is a cutting-edge, superior quality greenhouse film manufactured by Puyoung Platech, Ltd. using proprietary technology acquired from Israel-based Palrig, the world's premier manufacturer of agricultural use films. Solarig films are more than 10 times stronger than regular polyethylene films. When compared with competitor products, Solarig offers superior light transmission (88%) and solar ray dispersion, achieving an optimal environment for crop growth through the best possible use of sunlight. Solarig's exclusive specialized coating process blocks UV rays while minimizing UV-related deterioration of the fabric. Furthermore, it features anti-drip protection to minimize the formation of water droplets on the greenhouse ceiling, and traps radiant heat to maintain an even indoor temperature when the outdoor temperature drops overnight.
Because of its superior quality and lifetime of up to 10 years or more, Solarig also receives excellent reviews in applications beyond greenhouses, including poultry and cattle sheds, fisheries, and warehouse covers. Solarig's rise to dominance in the greenhouse film market has been largely driven by word-of-mouth advertising; over 90% of first-time buyers choose to purchase the product again.
In response to Solarig's strong performance in the market, Puyoung CEO Youngjin Koh says, "We are thankful to our customers and to the agricultural industry for recognizing the hard work we put into this product over many years, and we will continue investing in and developing Solarig in order to continue as a trusted partner in the future."
About Puyoung Industrial Corporation, Ltd.
Puyoung Industrial Corporation, Ltd. is a leading manufacturer of woven polyethylene products. Its products are used around the globe in construction, industrial, agricultural, and recreational applications. Puyoung has more than 1000 employees in eight countries and prides itself on high quality products and excellent customer service.
Learn more at
http://www.tarpaulin.co.kr/
Media Contact:
Yongdo Shin
Puyoung Ind. Co., Ltd.
Tel: +82-2-3462-2992
puyoung@tarpaulin.co.kr
http://www.tarpaulin.co.kr